Has your life not turned out the way you imagined?
Have you realized the way you were taught to live to be happy isn't working?
Do you have a life-sucking or ultra stressful job?
Is your home life full of drama, stress or grief?
The reason you feel like you're just going through the motions at your job (or it's the same old routine every day at home) is because subconsciously you've realized the tools you've been using aren't working!
This isn't your fault! Most of us were taught to live and do things a certain way. We were encouraged to fit in and meet societal expectations. We were taught what our parents (or other family members) were taught. For most of us what our early training lacked was how to keep and strengthen our inherent gifts!
Do you remember . . .
Exploring, laughing, playing outside and screaming with delight?
Acting silly, dressing up or playing "make believe"?
These are just a few examples of our inherent abilities at work!
Most of our life training was knowledge (school) and task (getting dressed, tying your shoes, making your bed, etc.).
So, as adults we are trying to live a happy, fulfilling life using only one set of skills (knowledge or logical brain)!
We need the spiritual skills to find our life balance!
There can be many reasons why your whole life (or one big part of it) seems way out of balance. Usually it stems from past experiences, what you were taught and your beliefs. But what can you do about all that?
If all the stuff going wrong in your life seems too big to change, it's really not too much to overcome! You just take it one step at a time!
And here's the cool part . . . once you start working on one step it affects all the other stuff, like a domino effect! What that means is when you change one thing other things will naturally fix themselves!
How fabulous is that?
This course is designed to:
Reveal truths about what we really deserve and have the power to accomplish.
Address beliefs that may be doing us more harm than good.
Releasing stress, drama and grief so we can begin to heal from old stuff we've been carrying around for a long time!
This "relief" program has four sessions. Each session is designed to assist in moving out the stuff that isn't serving us well and replacing it with positive things that WILL help us have a more joyful life!
Here is an overview of each session:
Session 1:
Goal: To start getting to the bottom of why the way you've been doing things isn't working!
Outcome: Finally answer some of the questions that have been plaguing you for some time like:
"Do I deserve a better life?"
"Is there a better way?"
"Why can't I break this cycle of stress?"
"How do I let go of this grief?"
Here's what to expect:
Be exposed (maybe for the first time in your life) to the spiritual truths that rule our world
Experience a positive shift in what you believe about you!
Understand how the subconscious works and get tips for making it work for you instead of against you!
Receive activation and set intentions for tackling your biggest "monkey"!
Get your first dreamtime practice to begin removing the negative out of your life!
Session 2:
Goal: To begin releasing your stored-up stress, drama and grief!
Outcome: To learn new practices you can use the rest of your life to keep releasing negative emotions!

Most of us hold on to stuff FAR too long! This has a negative effect on our mental, physical, emotional and spiritual health! If we don't release, heal, get over, get past, forgive our selves, etc., this can lead to various types of disease!
The good news is you don't have to relive the negative experiences or emotions! That's right! You can "clear out the clutter" without having to go through the emotions or trauma again!
Isn't that great? You'll also connect with others so you don't have to go it alone!
Here's what to expect:
Learn self-healing practices and remove stress, grief, drama, negative energy, regret, remorse and a host of other "luggage" you've been carrying around!
Connect with like-minded people through the FaceBook Group!
Reach out to Email support for any questions, concerns, etc.
Session 3:
Goal: To take an honest look at your beliefs.
Outcome: Know which of your beliefs are old, outdated or no longer serving your highest good. Start changing one of your beliefs with one that works for you!
Beliefs play a major role in decisions we make every day! Decisions that are having a negative impact on our life!
Oftentimes the things we learned, experienced and accepted as true early in life are not necessarily working for our best interest now. Once we change some of those beliefs a lot of the negative in our life will change for the better!
Here's what to expect:
Compare your core beliefs/boundaries to the spiritual truths and discover how they line up (or don't).
Complete your "Belief Assessment" to understand which beliefs and boundaries you can keep and which ones need changing or tweaking.
Choose which belief you'll tackle first.
Design your plan to release the old belief and replace with the new one.
Session 4:
Goal: Discover practices that help you get better sleep!
Outcome: To experience better sleep in 7 days!
This session is about one of the most important things you do every day . . . sleep!
When is the last time you had a good nights sleep? Do you toss and turn all night or can't get to sleep? Are you still tired and irritable after you wake up?
If we aren't getting quality sleep it simply makes our stress levels go up even more!
The reason sleep is so important to changing the way your life is going is because our body, mind and spirit require sleep to function at our best! The body gets to rest after its long day. The mind is finally quiet and peaceful. The spirit receives its instructions during our dreamtime!
One of the easiest things you can change in your life to perk it up a bit is to make sure you get good sleep!
Here's what to expect:
Practices to help you prepare for great sleep throughout your day!
A complete sleeping space makeover designed to assist in you in getting quality rejuvenation time!
Create and practice your own bedtime ritual that prepares your body, mind and spirit for sleep.
Tips on how food, drink, words and thoughts can help you sleep better and wake with more energy!
Actually seeing changes almost immediately sound good to you?
Most people who come with an open mind and willingness to try something different will start seeing results immediately!
If you do the work you'll start feeling a shift in your moods, energy levels, how you look at things, self-worth and a host of other changes!
I know change can be scary or outside your comfort zone at first.
I came from a working class family and as a child experienced physical, emotional and sexual abuse. I also had to deal with an alcoholic parent, bullying, racism, my parents' divorce, poverty, death and parental estrangement.
Needless to say, I became an adult with hidden issues related to childhood trauma that would take years to recognize, release, grieve over and forgive. In the meantime I made decisions based on my experiences and what they had "taught" me.
So there I was, trying different jobs that all turned out to be stressful and joyless in one way or another. Several failed relationships, drama at home, death and allowing people to abuse me in various ways rounded out my life.
One day it all came crashing down around me and I realized everything I had learned growing up was not working! I was looking for another way that would bring me happiness and a sense of purpose into my life. I thought about my ancestry and decided to look into spirituality. The rest, they say, is history!
I had no idea where to start so I bought some books, went to a couple of holistic events, took some classes, received some energy healing, etc. I learned and experienced something from them all BUT . . .
It took me years to learn the "basics"!
I really didn't know what questions to ask, how to trust my intuition or ask for help from the universe/God/Spirit. I've always asked myself what would have made my journey a bit easier?
The answer? I REALLY could have used an easy-to-understand class or coaching program that would:
Take me through the basics.
Help me recognize and release the stuff that was keeping my life unhappy and unfulfilling.
Teach me the truth about spiritual abilities and how to use them in everyday life!
In other words, give me a good foundation so I WOULD know which questions to ask, how to trust my intuition (gut feeling) and ask/trust spirit to help me with what I need most to turn my life around!
So, after years of working through all my trauma, education, training and beliefs I decided to help others who are going through similar stuff as I did and offer them a way to change the way their life is going in a simple, healing way.
What came about was an 8-week, intensive, practical coaching program to help you begin to "reset" some of the training, experiences or beliefs that are keeping you in a cycle of despair, stress, loneliness, depression, drama and all the other stuff that goes along with them.
The program includes a 4-session, 8-week course to assist you in releasing, rethinking, adopting new beliefs and practices to get you comfortable with knowing how to address life and get it back on track!
You will get Email support, a private FaceBook group to meet like-minded people and a variety of online course materials, videos and audio!
If you are MORE THAN READY to dive in and start changing what is to what was . . .
Click the "Enroll" button at the bottom of the page now!
Thank you for considering taking this HUGE LEAP with me! Hope to see you in the program! De
Your Instructor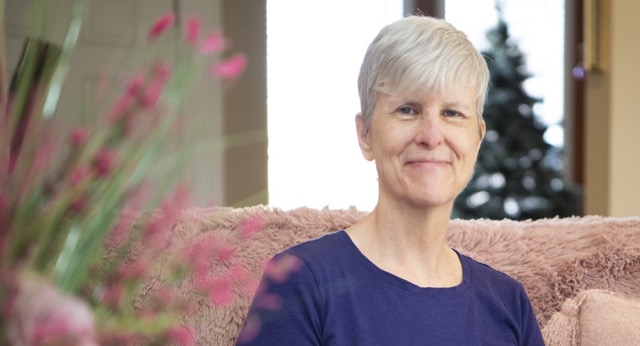 De has been a professional trainer for over 20 years. She has taught well over 3,000 students and has a Master of Education (Curriculum & Instruction) degree from Weber State University.
As a child and young adult De experienced a variety of traumatic events. For many years she tried to make life work using her education, training and experiences. Nothing seemed to bring about the life she had imagined for herself and one day it all came crashing down. She realized she had to let go of all the beliefs and experiences keeping her locked in misery.
She started reading books, taking classes, talking to people and doing a ton of self-help. She discovered a spiritual approach to life and she felt like she'd found home!
After experiencing, healing and educating herself in spiritual concepts, she began assisting others to overcome their negative experiences and beliefs over 7 years ago. She used her work experience as a trainer to offer classes to people just beginning to discover their spiritual side.
Now she offers online coaching and spiritual development classes for the whole world to enjoy!
De is an author, psychic, spiritual coach and healer who mixes simplicity, humor, realism and honesty into her classes.
Course Curriculum
Program Introduction
Available in days
days after you enroll
Introduction to Session 1
Available in days
days after you enroll
Session 1: The Reasons Why Your Life Isn't What You Imagined
Available in days
days after you enroll
Frequently Asked Questions
When does the course start and finish?
The course starts now and ends in 8 weeks. Each session runs for 2 weeks.
How long do I have access to the course?
You'll have access to the course for 8 weeks! Be sure to keep copies of the course handouts and your journal entries. You can use the practices included in this course to help you reduce stress, lessen drama and release grief for the rest of your life! How great is that?
What if I am unhappy with the course?
We would never want you to be unhappy! If you are unsatisfied with your purchase, contact us in the first 14 days and we will give you a full refund.
Thank you for allowing me to assist you with reducing the drama, stress, grief or aloneness in your life!
I look forward to meeting you and providing you with the tools for your transformation!